When war appeared inevitable with England, Charles Lee expected to be named Commander-in-Chief of the Continental Army, as he was the most experienced candidate in terms of military service. Instead, overall command of the American army was given to George Washington. By the end of 1776, Lee's animosity and disdain for Washington began to show. During the retreat from Forts Washington and Lee, his army was supposed to join Washington's in Pennsylvania. Instead, Lee set a very slow deliberate pace.
On the night of December 12, 1776 Lee, his staff and bodyguards stopped for the night at White's Tavern in Basking Ridge, New Jersey. The tavern was approximately three miles away from his army. The next morning, a British patrol of two dozen mounted soldiers appeared, found Lee and captured him.
In a December 19, 1776 letter to his wife Mary, Massachusetts Colonel Loammi Baldwin recounted the capture of American General Charles Lee. "General Lee was taking by a party of the Enemy's Light Horse about 5 or 6 miles in the Rear of our Army, a French officer was taken with him, but nobody else. I think he is chargable with the highest degree of imprudence for suffering himself to be at such a distance from his Army when he knew he was amongst some the most iveterate Tories and the Publick Enemy nigh at hand."
Baldwin's letter asserted that only a "French officer" was taken with Lee. In reality, the general had upwards of thirty men with him prior to his capture. Most fled the tavern when British troopers approached. However, by the time the raid was over, the general, his aides and a body guard were prisoners of the Crown.
The body guard was eighteen year old Samuel Hastings Jr. of Lexington, Massachusetts.
In December, 1775, Hastings enlisted in the Continental Army. However, unlike most men from Lexington who joined Captain John Wood's Company of Loammi Baldwin's 26th Continental Regiment, Hastings enlisted in the Captain Nathaniel Wade's Company of Colonel Moses Little's 12th Continental Regiment.
Because of his size and agility, Samuel Hastings was quickly transferred to General Charles Lee's "lifeguards". Along with over a dozen other soldiers, Samuel was responsible for protecting General Lee from harm. Hastings served as the general's body guard in New York, Philadelphia and Yorktown, Pennsylvania. While in Yorktown, the young man became infected with small pox and was hospitalized. Upon his recovery, Samuel rejoined the general.
According to a 19th Century pension application from Hastings and supporting documentation from superior officers and Lexington residents, he was present at General Lee's capture at Basking Ridge. Although most of the general's life guard fled, Hastings apparently stood firm. Documentation in the pension file is vague, but post war accounts from Lexington residents suggest that he may have received a saber slash to the head prior to being captured.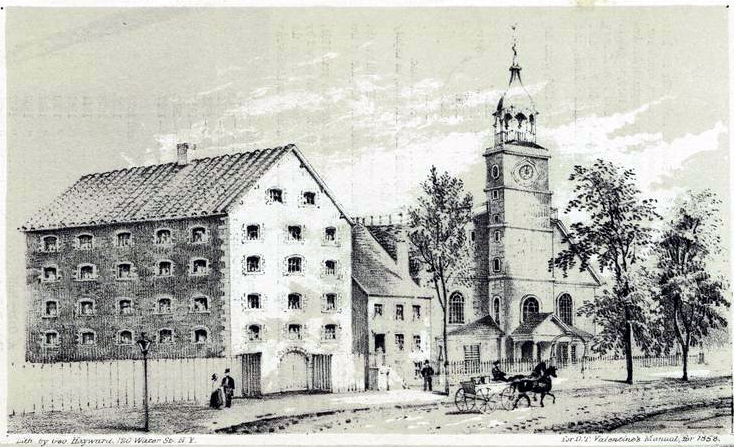 Old Sugar House, Manhattan, 1830, in an illustration from 1858
As an enlisted man, Hastings was immediately separated from Lee and sent to Trenton, New Jersey. Afterwards, he was imprisoned in New York City with soldiers captured at Fort Washington. It is likely he was incarcerated in a
sugar house
on Crown (now Liberty) Street. According to fellow prisoner Elias Cornelius, conditions in the sugar house were deplorable. "The top of the House was open to the weather, so that when it rained the water ran along and through every floor and on that account it was impossible for us to keep dry. . . 4 pounds of poor Irish Pork and 4 pounds of mouldy bread for 4 days . . . a hideous place."
Hastings remained a prisoner for at least a year. His next recorded event was his marriage to Lydia Nelson in Lexington on October 1, 1778.
Hastings later asserted in his pension application that he was "never exchanged and did not again enter the service". Lexington records and period accounts from neighbors state Hastings often declined to enlist in subsequent military campaigns because he was on "parole".
Whether he truly was on parole or wished to avoid the risk of recapture remains unclear.